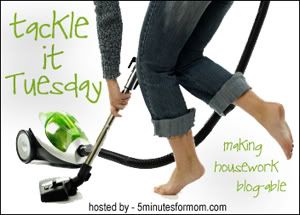 So, this is my third TT, and I'm so excited because I have conquered Mt. Washmore. Well, sort of. I'm not sure I want to be this transparent with y'all, but here, take a look....


Yikes!!


And then here's the after!


Now, I know it doesn't make sense to a lot of people that we have a shelving system in front of our fire place, but it works for us. I can throw everyone's laundry on there as I fold it and they can whisk it away to put it where it belongs. Before this, I made 7 plus piles on our beds or all across the furniture. Now I can fit it all in one place, saving myself time and space!


And here are the kids putting the poor old recliner back to use the way they think it's supposed to work...