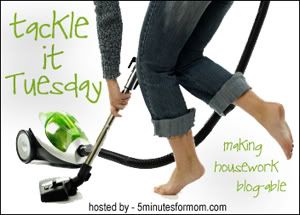 My first Tackle It Tuesday.

I don't have any before and after pictures, and I'm not sure if this really counts to all you other Tacklers, but I've been in the hospital with my littlest youngster since Saturday night without access to my computer. A beautiful person (see Friday's post for a picture!) brought me my laptop today at last. So my task for tackling today is my inbox. And now after 2 hours of accumulated effort, I have made all my phone calls, sent all my replies, composed and sent all the important messages, and coordinated all my workers. All in a day's work!

That was the easy stuff. I'm being nice and not sharing with you all of the tough things I've done today. If you are familiar with rotavirus, you already know what I've been doing all day. If not, then be content in your ignorance. Take it from me, you don't wanna know!